If you haven't notice, Facebook has just launch a new feature which allow you to choose a username for your profile. This will make things easier when you want to direct people to your profile on facebook.

Previously when you want to search for someone's profile, you either search for it with the email address or name which very often could land you on the wrong profile as there is more than 200 million people reportedly using facebook.


With the launch of the unique username assigned to profile, you can now go directly to the profile you are looking for.


This new feature was launch at 12pm today(13th June 2008), and I got my reserved at 12.30pm. My brother who tries to get his register his username but it was already taken up. So better be quick or else you will risk loosing you ideal username. If you don't see the message from Facebook telling you about the username, kindly go to
www.facebook.com/usernames
and get you username registered now.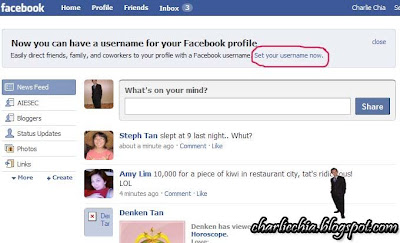 You should be able to see the message in blue box just like the one I circle in red.


Now you can view my profile at http://www.facebook.com/CharlieChia
I love this new feature because my friends and family can now access my profile without any hassle of memorising the long URL which facebook previously adopt. I think this move is to counter Twitter's growing popularity as http://www.twitter.com/, a mircoblging tool has long adopted the username feature which make its extremely easy for netizen to navigate around the cyberspace. If you have not heard about Twitter or seen it, you may take a peep at mine profile at www.twitter.com/CharlieChia.