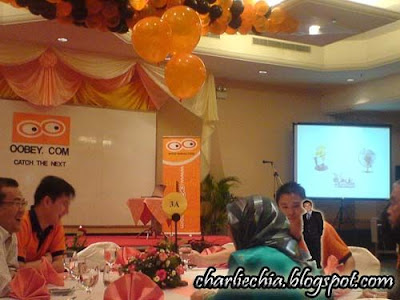 The VIP having casual chats. The second person from the left is Kenny the COO of Key Elite

Sdn

Bhd

. I

don't

know who the others are, so

don't

bother

asking me.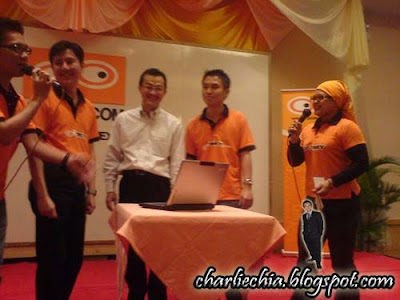 The

VIP's

getting ready to officiate the event with a click of a mouse.
Today I attended
Oobey
.
com's
1st Anniversary Dinner which was held at
Cititel
Hotel @ Mid Valley. Was actually introduce to this company by
Koh
Pek
, who was once my colleague when we were working with
Genting
Group. She
happen's
to be with this company now and thus extending an invitation to me.
For your information
Oobey
.com is a locally founded e-commerce company which sell gifts online, a local version and smaller scale of Amazon.com. Its managed by Key Elite
Sdn
Bhd
, a subsidiary of
CNI
Holdings
Bhd
. For more info, kindly visit
http://www.oobey.com/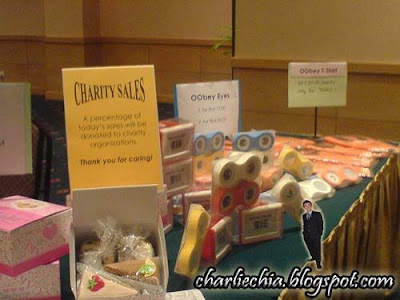 Some of the Merchandise were on display at the event. A percentage of the sales proceed will be donated to the 2 orphanages that were invited to join the event.
Though the event wasn't that great, the food were so so, the presentation was lack of professional touch, I find the event to be quite meaningful as the company practices Corporate Social Responsibility(
CSR
) by inviting 2 Orphanages to join in the Dinner and presented some gifts to those cute little kids. I think this was one of the selling point which attracted a number of pressman do a coverage on this 1st Anniversary Party of this little start-up company. I guess these people are still pretty fresh to the world of technology or maybe they aren't that IT savvy as I notice the lack of video editing technology being used in its presentation. Anyway, I must still give credit to Key Elite
Sdn
Bhd
team of people who share the same dream doing something different and work towards it.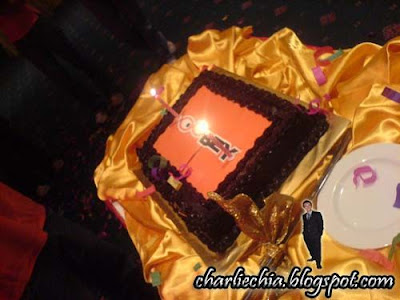 Oobey's

Birthday Cake. Happy Birthday

Oobey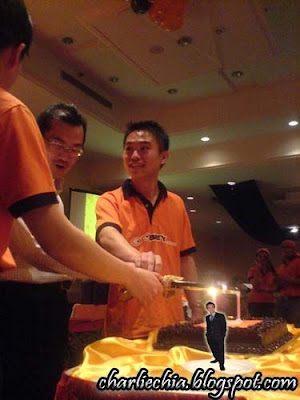 The VIP cutting

Oobey's

Birthday Cake

Life stops when you stop dreaming, so if you have a dream, try living up to it, no matter what people says about it, never ever give up. Happy 1st Anniversary
Oobey
.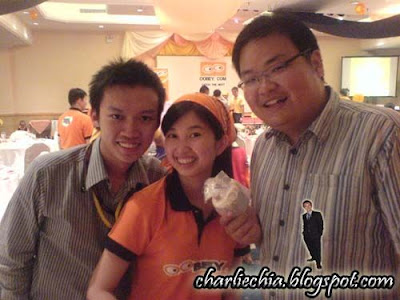 Ex-Genting Group Staff: Myself, Koh Pek and Khian Sin