It's been quite sometime since I last attended a blogger event organised by
Nuffnang
, partly because of my hectic work schedule as well as the laziness in me. Just 3 days earlier I got to know that my company will be having an event with
Nuffnang
. So I tried my luck by contacting the marketing guys who were really friendly(well everyone in
DiGi
is extremely friendly, this include myself of cause) in handling 2 invites to me and my guest. Thanks Mark Darren & Richie
Khaw
.

Introducing Ecoba, Restaurant & Bistro
Anyway the event is called Break Free With DiGi, an event organised for blogger to introduce DiGi's newly launch Smart Plan which is suppose to free the Internet feature from being stuck in your mobile phone. Held at Ecoba @ Damansara Perdana, one of the most happening chill out place in PJ, the venue seems to be the perfect place for parties as its strategically located within the golden triangle of Petaling Jaya, comes with ample parking space, affordable food and beverages and cosy interior.

The Entrance
Did I just mentioned that the food and beverages were affordable?? Dont get me wrong, all everything for the night is free, what I meant was the menu looks affordable for KL Standard. Nevertheless since
DiGi's
throwing the party for blogger, there were free flow of F&B served including beers.

Registration Counter
Just like any other event, goody bags were given to every bloggers(nothing much to shout about the freebies though as I've tons of it in my office locker and in my car).



Wrist Bands are given to those above 18 and non-malays.
In order to control the crowd, wrist bands were given to those above 18 and non-malays only so that the waiter know who they should serve those booze.



Goody bags!!!!
There were lots of games throughout the night where attractive prizes were given away. Several units of BlackBerry and Smart Phones were given to the winners courtesy of DiGi. Unfortunately I'm an employees thus I cant try my luck in winning those cool gadgets.

Ecoba's Interior
From my observation, most of those who attended the event were fresh faces and there were lot more Malay Bloggers this time around which is a good thing i guess as it blend well with DiGi's aspiration in gaining market share in the malay segment.

Sad to say, there were any top blogger at the event, probably because there were no arrangement to invite them, besides, RelayKL @ Bukit Jalil, Hennesy Artistry @ Zouk KL, Khalil Fong Timeless Concert @ Genting and several other parties were all happening at the same time.

On the bright side, I've one of the top food blogger with me as my guest for the night, she is non other than Sue Lynn aka BangsarBabe.

Sue Lynn & myself
As usual, Timothy Tiah was at the event as Nuffnang was hired to help co-organise the event. Ever since I knew him more than 2 years back when he started Nuffnang, Tim is known to be a very hands on entrepreneur who doesn't mind getting his hands dirty together with his staffs aka nuffies.

Timothy Tiah
There was a mock giant BlackBerry Bold 9700 on display at the entrance of Ecoba, one where people can step inside to take photos just like what I did: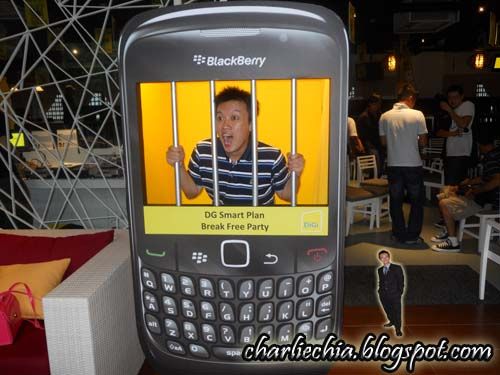 Myself
I fail as an actor as my facial expression look kinda fake in this photo, was suppose to act miserable behind those iron bars.



Sue Lynn
Her acting skills is worse than mine, guess she is the only person that would smile while being behind those iron bars, or maybe she still dreaming of the Miss Malaysia Pageant.
The best actor of all time have got to be my friend Mr Chan, the owner of SwitchBox, an event company that has been working with DiGi on various events for the past 7 years. Switchbox is co-organising this event with Nuffnang.


Chan with his Oscar Award winning expression.
It was certainly a good initiative by DiGi in trying to blend in the local bloggers scene, will be looking forward for more of such event from DiGi.