Esther, Kate and I arrived at the event at about 7pm (1 hour behind time, a Malaysian style). When I first arrive at Borneo Baruk Club, I thought I was at the wrong place, cause I saw 3 hot young ladies dress in naughty costume, a french maid, a nurse and a police women. I 'was thinking to myself, this cant be the right place, cause I'm suppose to be a pajama party and not a bachelor sex party. Anyway Esther who was once working with Nuffnang confirm that its the right place when she spotted some familiar faces. In a split of a second, Esther was missing, leaving Kate and I alone and lost.

And so I began to register myself and then started snapping pictures with those sexy girls which I later learn that they are known as Nuffies.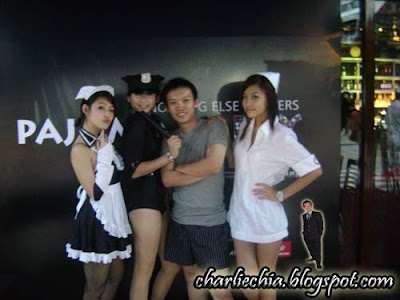 Notti French Maid, Hot Police Women, Me and Sexy Nurse
L To R: Ginny Yap, Emily Chai, Me and Natalie Fong.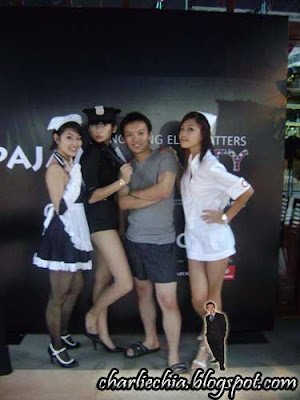 The Nuffies striking another pose with Me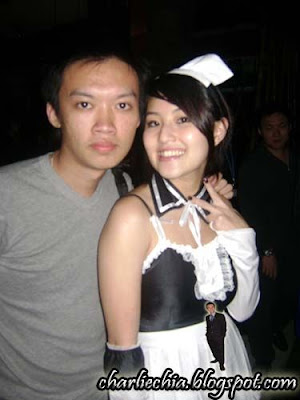 Ginny the french maid & I(Isn't she cute?)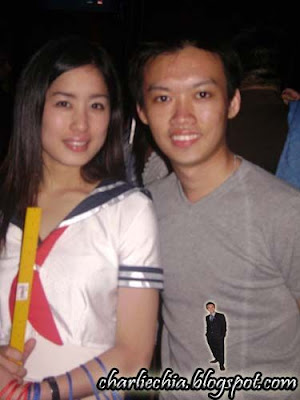 I spotted yet another Nuffie as I was about to enter the Club. Its a young girl dress as a Japanese Student