Short Talk: This is not a paid advertorial by 1Utama or DiGi. Everything I blog in this entry is solely my opinion and recommendation for the benefits of my loyal readers. Cheers =)
---------------------------------------------------------------
Do you live near 1Utama? Is 1Utama your second home? Well if you are a regular visitor to 1Utama Shopping Center, then this is a promotion you wouldn't want to miss. Here's your chance to get Free OneCard(1Utama Loyalty Card) and RM5 preloaded Parking Credit. In case you did not read properly, its FREE.

So what do you have to do? All you need is be a DIGI user, and Dial ##1111. You will received a sms shortly and proceed to the information counter located at the ground floor of 1Utama New Wing, and flash the sms. You will be given a registration from and a survey form to be filled up.

So What are you waiting for? If you are not a DiGi user, I recommend that you get one of the prepaid pack which cost only RM8.50 with RM5 preloaded Credit. You have nothing to lose, cause you will be getting RM5 preloaded airtime and RM5 preloaded parking credit, and also OneCard worth RM10 for free. In simple maths, you are only paying RM8.50 to get something that's worth RM20. That's more than 100% return on your investment.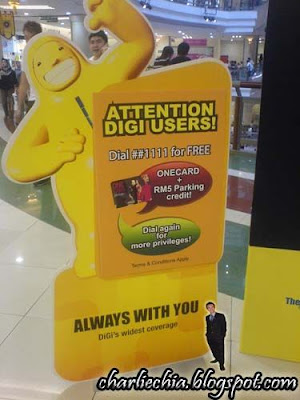 Took this photo while I was at 1Utama with Emily earlier this week, she completed the registration form but later decided not to proceed with the registration when we were told that she need her IC for verification purpose. The poor girl didn't carry her IC along, so that explain why she didn't proceed.
So if any of you plan to redeem the OneCard, be sure you bring along your IC. For more info on OneCard, click
here