Short Talk: This is just one headline I find interesting and wants to share it with you guys. This article doest not represent my political view.
---------------------------------------------------------------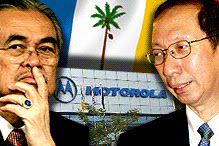 Gosh... did any of you read about it? it was headline on Malaysiakini, with the title Penang "bribe" Motorola to stay. Here: a snap shot of whats in the news:

Letter: Penang 'bribed' Motorola to stay
Beh Lih Yi Mar 2, 08 1:01pm
The top-secret missive confirms that the state government offered a RM1 billion project to telecommunications giant Motorola to persuade it to stay put in the state.Highly-confidential correspondence confirms that the Penang state government had asked the federal government to offer a RM1 billion project to Motorola in a desperate attempt to stop the American telecommunications giant from pulling out of the state.
If any of you readers got has any insider news on this, do share it with me. Will be looking forward to hear your comments too.