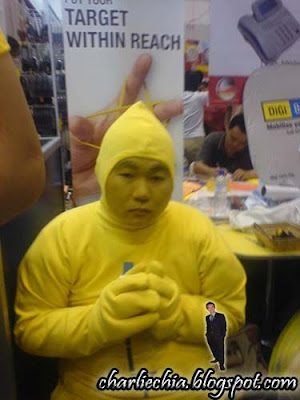 To many who knows me, I've always been a loyal fan of the annual PC Fair since 1998 when I first visit the fair. At that time it was held at the United Malays National Organisation(
UMNO
) Building a.k.a the
Putra
World Trade Center(
PWTC
) which is located in the heart of
Kuala
Lumpur
. It's an annual fair where people of all ages from various walks of life come together to get the best bargain in town (for information technology related gadget).
Organised by the Association of the Computer and Multimedia Industry Malaysia or better known as PIKOM. If my memory did not fail me, the first time PC Fair was held at KLCC Convention Center was in the year 2005.

Anyway, after being a loyal patron for the last 10 years or so, this time(8th -9th December 2007) I went there on a different role. As you guys know, I'm working with DIGI Telecommunications and thus my role to attend the event to make DIGI's presences felt. Actually I didn't know about this job until about 8.30pm on the 7th of December 2007(Friday) which also happen to the the first day of the PC Fair(III) 2007. Anyway, from what I know, one of DIGI's Distributor "Creative Century Management Sdn Bhd" told my boss that Maxis has a very huge presence at PC Fair. Thus my boss decided to dispatch the entire sales and marketing force from the HQ together with the Famous DIGI Yellow Coverage Fellow to the Fair and to make DIGI's presents felt.

So whats our role there? Many of us are just there to make our presents felt and also to answer any queries that the consumer may have. We weren't required to do any hard selling, as we specialised in the Corporate Market rather than the Consumer Market, which many of the visitors never fail to thought we were there to sell prepaid card. goshhhhh. It's a nice job as I'm being paid a handsome sum of money just to wear the DIGI T-Shirt and all my expenses such as petrol, parking charges and meal are all claimable. haha this is the first time i parked my car inside the KLCC Convention Center Car Park which cost my RM17 and RM24 for the 2 days.

During the 2 days that I was there, I played the role similar to Santa Claus, giving out DIGI's freebies, such at sun shades, pens, miniature footballs, notepad, key chain as well as goody bag to visitors walking past the booth.

Anyway, the 2 days were fun, as I see many Malaysian flocking to any booth that is giving out freebies. Well to my surprise, there were some that refused to accept any freebies. These people must be really rich that they don't even care about getting freebies, but wait a minute, if they are so rich, then why are they at the Fair to check out great bargains?

I didn't really took much photos as I was busy distributing freebies. =( But I definitely enjoy the company of the yellow coverage fellow who never fail to amuse people and makes people laugh despite not being able to utter a word.

Below are some photo's of yellow man in action, courtesy of Wong Hon and my self.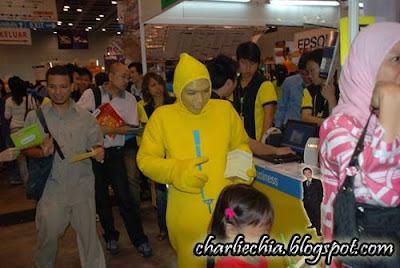 Yellow Man getting to work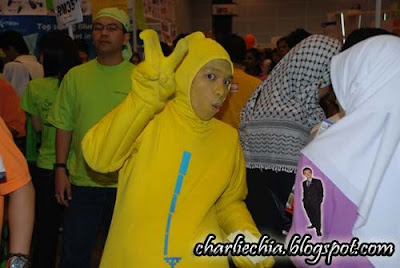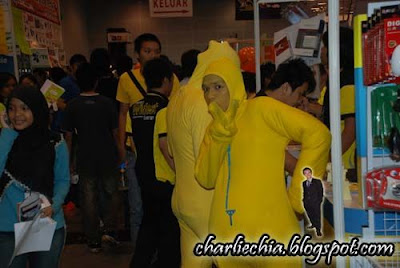 Again, lets try another pose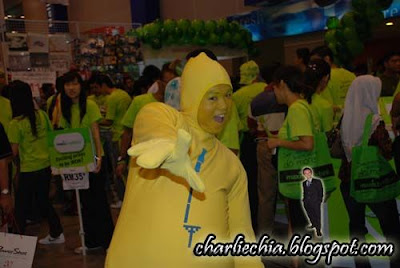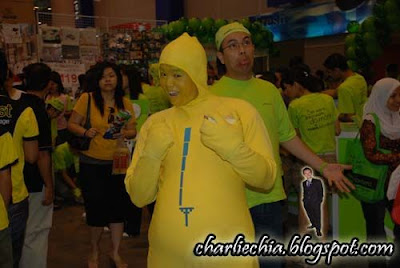 Maxis is being overshadowed by DIGI Yellow Man. YCF rocks...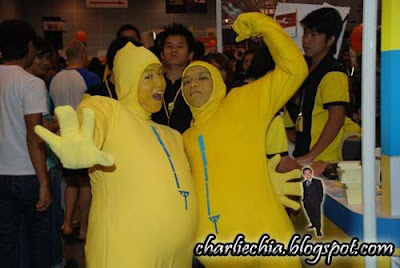 Hey its time to pose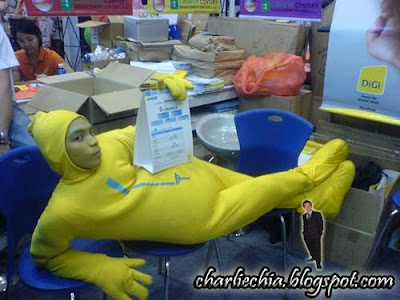 The Yellow Man taking a break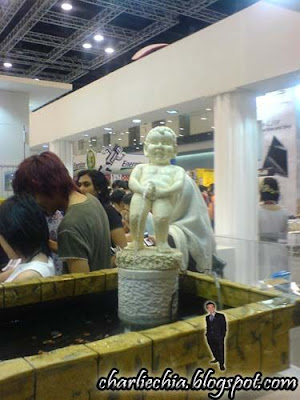 Its so packed in PC Fair that this boy has to do his business in the public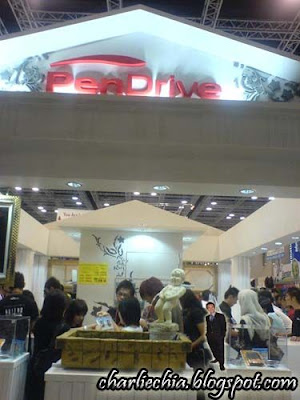 So what exactly is pendrive promoting? Open concept toilet?