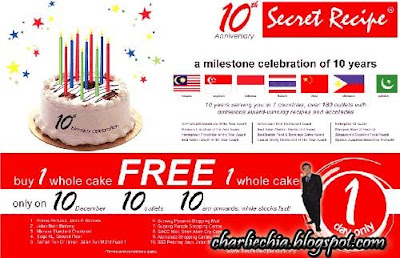 10
th
of December 2007 is a rather auspicious day for
Datuk
Steven Sim the founder and CEO of Secret Recipe Cakes and Cafe
Sdn
Bhd
because its the day Secret Recipe celebrates its 10
th
Anniversary.
In conjunction with this auspicious day, the company has decides to reward its loyal customer with a promotion. So whats the promotion all about ??? Well its pretty straight forward, Secret Recipe decides to give a whole cake FREE for the purchase of 1 whole cake. Meaning you get 2 cake for the price of one.
And whats the term and conditions?
The promotion starts from 10am onward, on the 10
th
of December at 10 selected outlet within the
Klang
Valley.
I heard about the promotion while celebrating Sham's Birthday at Tony
Romas
at The Curve last 2 days before the promotion but didn't really pay much attention to it though. So coincidental I was visiting at client whose office is at
TTDI
and I happen to drive pass Secret Recipe's
TTDI
branch(one of the selected branch with the promo) and I saw a beeline of people queuing up. I didn't really pay much attention to it as I was rushing for an appointment with my client. After my appointment which is about an hour later, I got back to my car and notice that the queue was even longer now.
So I decided to check out whats the hype all about. When I reach the queuing, a nice auntie told me that everyone is queuing to get the buy 1 free 1 promotion by secret recipe and told me to join the the queue immediately, which I waste no time but join in the queue. After standing in the queue for about 20 minutes, the branch manager walk to the end of the queue and told the those people queuing behind that there wont be enough cakes for those behind and I was one of them. gosh.... after some 20 minutes in the queue, I'm being told that I wont be able to get any cakes. The branch manager was kind enough to us that the branch at
SOGO
has ran out of cakes even before noon and so I have 1 less outlet to try my luck(including the
TTDI
branch, that will be 2 less opportunity).
So I took out my phone and begin calling the
Subang
Parade Branch to check if the cakes promotion is still available. Unfortunately I was told that the cakes have been sold out. So I decided to call the Mr .... the Operation Manager of Secret Recipe and he kind enough to tell me that I could try the branch in
Sunway
Pyramid. I immediately get into my car and zoom away from
TTDI
to
Sunway
Pyramid.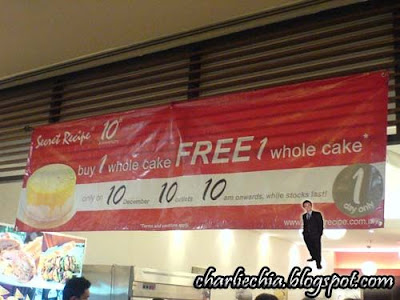 Arrived there in about 20 minutes, didn't took much time to find a car park as there was ample car park at the
Sunway
Pyramid 2
nd
Phase. So wasted no time by running all the way from the car park to Secret Recipe Outlet which was located on the lower ground of
Sunway
Pyramid 1st Phase. When I reached there, the queue was even longer than the one they had at the
TTDI
branch. Anyway I decided to get into the queue and it took more than an hour before its my turn.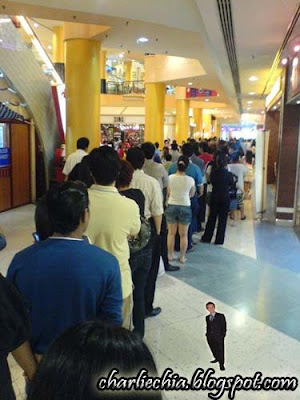 The Queue which took me more than an hour
It was finally my turn and I told the cashier that I wanted to buy 2 cakes to get 2 free cakes(4 cakes in total). She replied by saying that each person is entitle to only 1 purchase and 1 free cake only. I was like What the Hell??? I was waiting in the queue for more than an hour and now you are telling me I can only get 2 cakes. Lucky for me, there was a couple in front of me, and they only bought 1 cakes, so I kindly ask if they could help me to make another purchase another cake. To my surprise, they agreed to do so(god bless you) and I was so happy that I kept saying thank you to them but I forgot to get their name(if you are reading this now, drop me a message).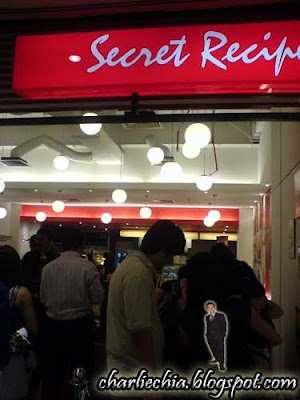 Finally I am in front of the store after a long queue.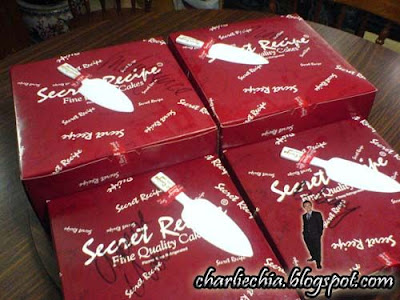 The 4 pieces of cake which I bought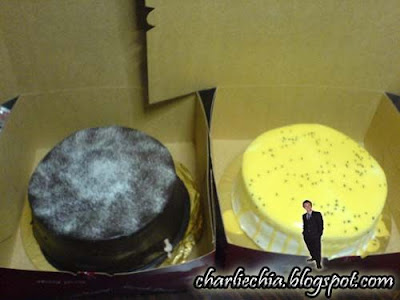 Chocolate Indulgence and Mango Delight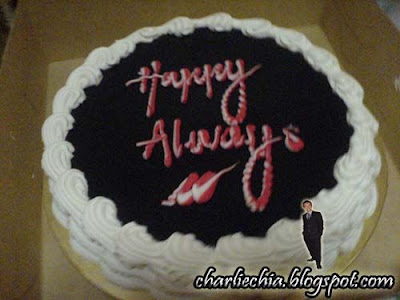 JJ's

Cheese Choc
** I bought another Blue Berry Cheese which I forgot to take a picture of it before cut the cakes.