Gone are the days when people make time for visit PCFair to get cheap bargains. Still remember back in 1999 when PCFair was held at Putra World Trade Centre(PWTC), things sold back then are really worth the time and afford in braving the crowd.
Today, the organiser and unscrupulous traders will use every dirty tactic available to convince and confuse consumer into believing that they are getting a good bargain when not really getting it cheaper in actual fact. It plays a lot of consumer buying behaviour too, where Malaysian usually think PCFair is where all the good deals are and less IT savvy consumer would usually end up being victimised. PCFair is no longer about IT, it's about girls too. Most traders today will hire scantily dressed girls as promoter to attract crowd. Judging by the rate its going, its just a matter of time before PCFair is turn into a flesh trade fair. No offence to those ladies who want to earn some pocket money, but these traders should in fact hire people that really have the knowledge to sell the product/service correctly and not provide misleading information to consumer.
No doubt there is improvement in term of venue, comparing with PWTC, Kuala Lumpur Convention Centre is definitely a much more conducive place for a fair like PCFair but it has some how loses its initially purpose and unique selling point, which is to offer unbeatable value to consumer.
I've been a loyal fan and been visiting PCFair religiously since the late 90's but stop going a year after it was relocated to its current venue because of the above mentioned reasons. However I recently drop by last Friday on the first day of the fair to help my cousin check out on the deals for notebook. Didn't purchase anything but manage to bring back some brochures back for price comparison.
Since my cousin has been eyeing on a DELL Studio 15 series notebook, I pay particular attention to Dell's brochure.

Dell's booth at Hall 2 which is manned by its dealer
Dell business must have been hit hard by the recent credit crunch in the States that it has to appoint dealers to help push sales these days. From my observation, one of its dealers seems to be Thurder Match, a rather large IT vendor in KL.
Dell as you know is a well known Computer company which advocate on cutting the middle man thus delivery much more affordable Computers/notebooks. It's major retails business rely heavily on its e-commerce portal.
Back to the brochure on Dell's offer, refer to the scan copy of the brochure here: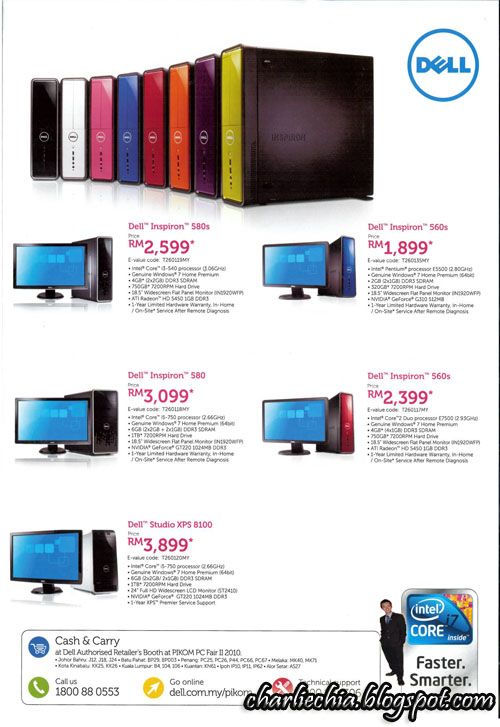 Dell's brochure encourage consumer to check out PCFair deals online via www.dell.com.my/pikom
Well guess, Dell made a wrong move by encouraging consumer like me to visit its PIKOM web address because what I'm about the share with you is going to somehow tarnish their reputation.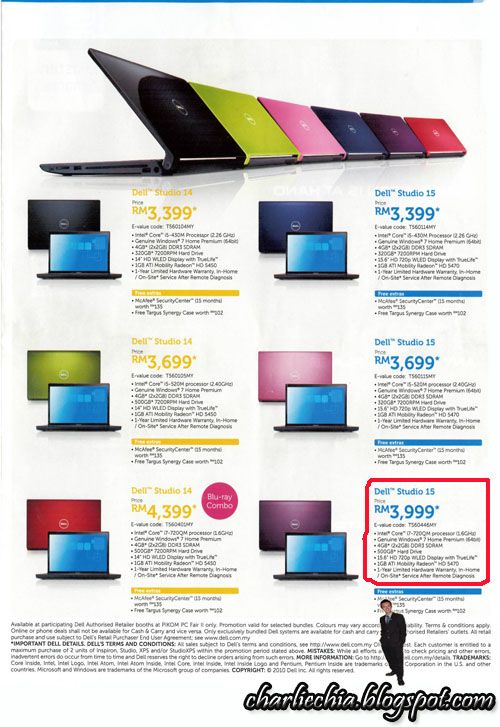 That's the model my cousin has been eyeing on.
Take a close look at the Dell Studio 15 model that I've circle in red. Too small to see the specs? Well have a closer look in the next picture.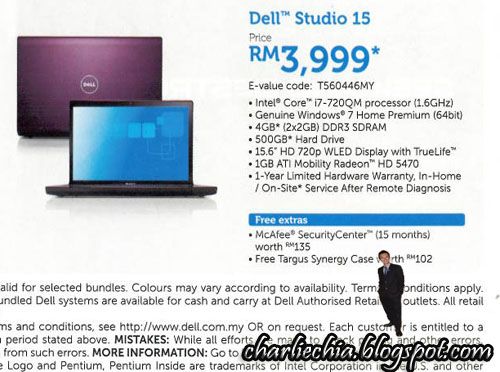 Clearer now? Be sure to read carefully.
For this particular Studio 15 Series which cost RM3,999. It comes with 3 main things:
Intel® Core™ i7-720QM 1.6GHz

4GB DDR3 SDRAM

500GB Harddrive
So with that brochure I did some research that very night. Guess what, I visited the website(dell.com.my/pikom) printed on the brochure I obtained earlier and found the following:


Studio 15 Series selling for RM3,999 but better specs.
Take a close look at the processor, ram and harddisk. For the same price that consumer pays, they actually get a strip down unit @ PCFair. if you purchase online, you basically get better specs for the following 3 item:
Intel® Core™ i7-740QM 1.73GHz
6GB DDR3 SDRAM

640GB harddisk
These 3 items are estimated to cost RM500 more on market value, not cost. I'm sure if one were to take cost price, its much lower. But then again as consumer we felt cheated. The reason one were to buy it at PCFair is because its suppose to be cheaper and we can collect the notebook on the spot. Besides that its suppose to boost sales for retailer like dell because Malaysian in general are still pretty sceptical when it comes to purchasing things online.
Anyway, I wasn't satisfied with what I've discovered and decides to go down to KL Convention Centre again on Saturday to ask the sales person in more details.
So i went there the following that and ask the sales person whats the best deal. I told him my needs and he point to the Studio 15 notebook at RM3,999. I then told him that I've been eyeing on that model but I notice the difference in specs while surfing the dell's Pikom website. Guess what he replied me? If you don't like can always go buy online or buy other brands. I think he was a little pissed being challenge by me. But then didn't his manager or company trained him not to be rude to customer in the first place. After all, customer is always right.
I went there on the second day, brave through the crazy jam from all direction leading to PCFair and then brave the human traffic walking along the ill planned route by PIKOM which required people to waste time by walking from one end to another and end up paying exorbitant fees for parking. It's really disappointing that after all the trouble, I still have to face such rude sales person from an international brand name called DELL.
I ended up making purchase online via www.dell.com.my/pikom , but I'm still very dissatisfied with the misleading information provided by Dell's brochure vs Website and the ill treatment from its sales person, be it direct employees or via its dealers. Therefore I demand that PIKOM, DELL and the dealer involved apologised for such careless mistake and also compensate for the time and money lost.