Just a few hours ago I was at
Starbuck
@ Plaza Mont
Kiara
, having my regular yam
cha
session with 2 of my closest friends cum best pals whom I have known for almost 10 years and still counting. Here's their profile:
Name:
Champ's
Real Name:
Woon
Chien
Ping
Age: Between 20 to 30
Gender: Male
Marital Status: SAL (Single, Available & Looking)
Relationship: Ex-
Sifu
Name: Mei Mei
Real Name: Cheryl
Leong
Age: Sweet 18 & Forever 18(so happy right Cheryl?)
Gender: Female
Marital Status: Complicated
Relationship: One of my best pal's sister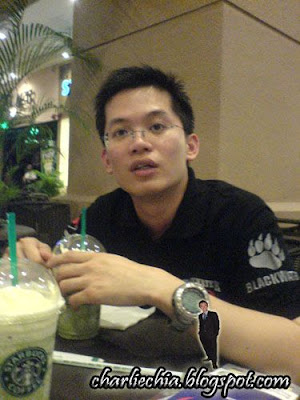 Chien

Ping what are you looking at??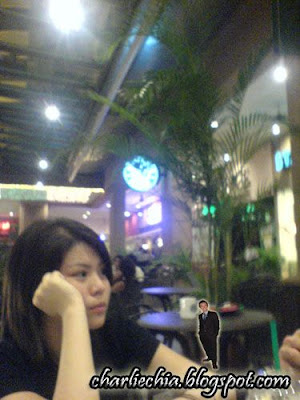 Cheryl dreaming away again
I thought to myself, today must be my lucky day, cause Champ's(a self made millionaire investor who has been travelling round the world) actually offer to give me a ride(I've never got a chance to ride in his car since I gotten my own set of wheel, my precious old junk from Nissan, Japan). As usual, he would pick up Cheryl, and then came over to my house. I got into his four wheel drive, and we begun chatting with the usual "Hey, how's your day?", then Champ's started interrogating me with the question,s So tell us who is the girl by the name JJ mentioned in your blog? which was supported by Cheryl. I keep quiet for a moment before trying to divert their attention with another topic, and soon we were chatting about what to do for Deepavali tomorrow, Cheryl's exam and most importantly where should we go for our yam cha session. I thought to my self, Topic diversion was a success. We decided on Starbuck at Mont Kiara, and we reach there in less than 10 minutes from my place. Well maybe its normal for him, cause he is used to driving big cars and all the F1 race must have more or less influenced his driving skill as well.

At the counter(Starbuck of cause), we place our order, Champ's pay the bill and I collected the points with my Genting World Card, at times I can be so cheapskate. Thanks for the drink bro.. We settle down on a nice spot with a view of the musical fountain at Mont Kiara Plaza Center Court. While taking a sip, we chat, flip through magazines and gave comments. One of the comment that Champ's gave was, WAU, look at Paris Hilton, she really got the S shape. I added on by saying, aiyoh, Its the art work of Adobe Photoshop. He immediately shoot me back by asking me to try and edit my own photo to resemble a leng chai Hong Kong Artist. That really demotivates me man, How could you say such thing to me? after all those years of brotherhood.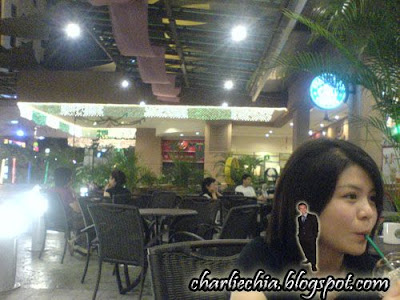 huh! you are very thirsty eh?
Anyway, after some casual chat, he begun asking about JJ again, gosh ,these people never give up, and I thought I managed to escape this during the ride here. Then Champs stresses that he wanna me to tell him about JJ the girl on my blog and not Jaya Jusco. Sorry bro but that's just so lame bro. So I knew I will not be able escape so I entertain him abit lah, which he was not really satisfied. Life goes on and soon we were talking about Kennysia, how fat Kennysia was during their University days and how muscular he is now, apparently Kenny Sia is Champs senior back in Uni. Bla Bla Bla and its was already 11pm plus, so Champs said lets make a move, cause little Cheryl has got curfew. Which I reluctantly say okay.

On the way back to Cheryl house, her mummy called to check on Mummy's Sweetheart. The called ended, me and champs being busybody ask her who call at these hour and what was it about? She said its Mummy, and Daddy is bringing mummy out for supper. So me and champs thought for a while and came up with a crazy idea. And so we ask, Cheryl can you please call your mum and ask if we two guys could tag along for supper. She gave a surprise and weird look. I repeated my statement and Champs seconded. So she made the call, ask if we could join and if daddy would mind if 2 mah lat lou join in? Got a green light and Champ quickly make a U-turn and head to Paramount Garden for Hokkien Mee(Hokkien Style Fried Black Noodle).

Champs made a pit stop at McDonalds for Cheryl and I to unload. Toilet @ McD is definitely cleaner than those at the Coffee Shop. We continue our journey after the pit stop and arrived at the Coffee Shop and Champ's began scanning for Cheryl's Daddy Benz. When we finally join Cheryl Daddy and Mummy for supper, Uncle Leong pop a question even before our seat got warm, You all never eat just now ah?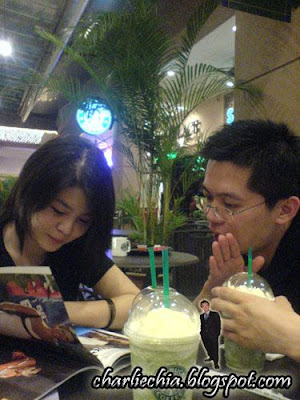 Busy gossiping about Paris Hilton, and comment on her figure.
I look at Champ's and he look back at me. Then I answer, No la uncle, we just wanna tag along and enjoy the atmosphere. Champ's quickly speak up by saying, please dint represent me. Haiz, dam sien man, got brother like him, never support me, some more must kick me few times. As we eat, we chat about various topic, such as my new career with "Ho Wong"(very yellow), the Stock market, stocks like DIGI which jump from RM3 plus to RM23 plus, shrinking of the US Dollar and properties in Malaysia and Australia that is worth millions, dam suddenly feel so old wei. Uncle Leong order 1 plate of Hokkien Mee and 1 plate of Yin Yong Wan Tan Ho. The portion was so big, we couldn't really finish, but Auntie say must no waste, Uncle Leong added that if his son Sean is around, we wouldn't have any left over, cause Sean will clear everything up, which all of us shared a laugh on.

Then Champ's continue and said the only time he really go on a diet in stay in good shape was during his National Service period. Since both plate has equal left over, Champ's decided to take the Hokkien Mee while I took the courage to finish the other plate. I finish mine and Champ's is still not done with his and eventually I have to help him. Damn tomorrow I need to go for extra 2 rounds of jogs at the park. There is important statement that Uncle Leong made during our convesation, he said: This Sean ah, everytime think of becoming a CEO only, study also never complete yet, dunno he can become one or not. Then Champ's quickly supported by saying: Sure can wan uncle, he already got the Lou Sai look now. I wonder is Champ's trying to to make himself look good, he is after all Sean's sifu also. Anyway we finish and left our separate ways. Thank for the supper Uncle Leong.

Champ's send me home and we talked about how Proton share has perform lately and the potential of Genting International. I reach home at about 1.00am and here I am still writing this blog at 3am because I forgot to save my work earlier.


If you are looking forward for a free meal, remember to write some comments. Champ's might just reply and offer you a treat. Girls will stand a higher chance though(please refer to Champ's Marital Status for more info.)