I don't know about you guys, but after having a long and tiring day @ Work, I always wish that I could relax and unwind in my home sweet sanctuary. But having a garden that's left in a horrible state to greet me really spoil my mood. After have endure with it for years, I've finally decided to give my garden a brand new Look & Feel with a simple DIY makeover . All this happens just 2 weeks ago. But before I continue, this is how my old garden looks like:

My Old Garden that's lack of maintenance.

Grass don't even grow in certain parts of my garden as the soil has harden.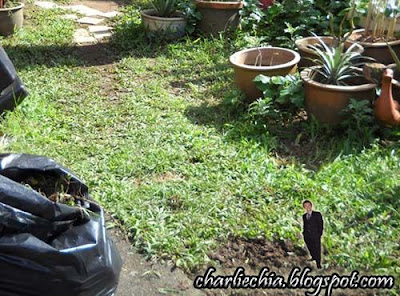 Wild grass and cow grass were growing all over.
As I've said, the crazy idea of re-designing my garden started 2 weeks ago, and it all started by digging out the entire garden.

The starting point
Trust me its not an easy job to dig out all the wild grass and cow grass that have been growing for ages and the roots has already tighten it's grip as years goes by. But I knew there is no turning back and was determined to finish the work with the help of my brother.

This is the result after one week of intense digging.
Soon after all the wild grass were cleared off, it's time to to plant some nice carpet grass on the empty land. I started by visiting the nursery to buy some brown sand, black soil, garden tiles, pieces of 2ft x 1ft carpet grass.

The carpet grass, sand and soil.

The Garden Tiles, I've actually bought it before I finish clearing all the grass.
Having bought all the required materials, the real work to put everything in place began. It's like playing jig saw puzzle, arranging the garden tiles and pieces of garden grass together.

Work In Progress (WIP)
Though it may look or sound easy, its actually quite tough too as proper planning is required. Despite working on the garden off and on after work hours, My brother and I managed to put all the pieces together and complete the task right before the eve of Chinese New Year. Something that I'm proud off because we get to show off our new brand new garden to relatives and friends who will be coming to our house.

The Final Product
It still looks patchy because its going to take sometime for the newly planted carpet grass to grow and close those gaps you see in the picture. At the end of the project, we are truly satisfied with the work well done. At least I will always be looking forward to come back and relax in the garden after a hard day at work or even play with my dog in the garden.

My dog, 'Lucky' loves to play on the newly planted carpet grass.
So anyone want to try playing golf in my new garden?

Just in case you are wondering, I invested almost RM600 on materials for the makeover and here are the things I've invested on:
35 Pieces of Carpet Grass (2ft x 1ft) @ RM2.50 each
20 packs of Brown Sand @ RM1.50 each
20 packs of Black Soil @ RM1.50 each
Garden Tools @ RM40
5 Garden Tiles (2ft x 1ft) @ RM30 each
15 Garden Tiles (1ft x 1ft) @ RM15 each
1 Pack of Giant Pebbles @ RM30 each