Last Night, I'd the privilege of being invited to Xpress Band Launching @ Zeta Bar, KL.
Only a small group of bloggers were invited so its kinda exclusive.
A little about Zeta Bar; Strategically located right beside KL Sentral, it is easily accessible via car, bus, Monorial, LRT and even Plane(well you will have to take the ERL from the Airport).

Zeta Bar is commonly known as the hive of the rich and famous. So you will expect pricier food and beverages but it worthwhile with the kind of environment and crowd in it.

An empty bar before the partee begins.

I was seated @ the Media Table with a bunch of cool people.


Jean Ho, Eric Yong, Haze, someone, Haze's BF, myself and Wei Bel

Yummy little drumstick were served.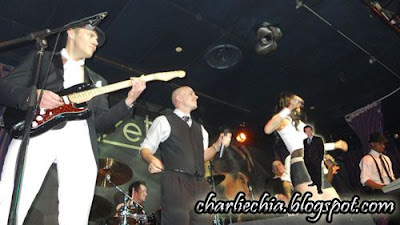 The Xpress Band in action
I was really surprise when I first hear them sing, cause they can really move the crowd. Bear in mind, this is event to launch the band at Zeta, so everyone that attend this event are VVIPS and Datuks. So when a band can make these VVIPS move, they are really good.

Xpress Band basically made up of 7 members ( 4 american and 3 canadian), Marc Lajoie, (Band Leader/Drummer, Canada), Kris Bradley(Lead Vocalist, California), Patrick McLanglin(Lead Vocalist, San Diaego), Alan Simms(Lead Vocalist, Miami Florida), Caulder Nash(Keyboardist, Montreal), Joseph Filipow(Guitarist, Indiana) and Marc Veillette(Bassist ).
All its group members has been playing for several year before the group was form. So they are consider veteran in the music industry. According to the media kit, they specialized in today's top hitz as well at the early 90s music genre.
The band has perform at a string of 5 Star Hotels around Asia and the Middle East. The band is represented by El-Live Productions, a production house based in Hong Kong. (
http://www.el-live.com/
)

Up close and personal with the band

(L to R) Marc Lajoie, Joseph Filipow, Patrick McLauglin, Kris Bradley, Marc Veillette, Alan Simms, Caulder Nash,

Thank Guys, for the pose.
So who wants to go Zeta Bar together to catch the band?
The Band will be performing until 30th April 2010. Be sure to catch them while they are still around.
Here's their schedule:
Mondays: 10.15pm – 1.15am
Tuesdays & Wednesdays: 9.30pm – 1.15am
Thursdays: 9.30pm – 2.00am
Fridays & Saturdays: 10.15pm – 1.15am
Sundays: Closed

For reservations, please contact Hilton Kuala Lumpur at 03 – 2264 2592So