Last week,
DiGi
.Com
Bhd
aka
DiGi
Telecommunications quarterly result was announced in the usual
quarterly
town hall
event. This is an internal company affair which is held once every 3 months, where the management team share with all the employees on the company past performances and direction moving forward. Anyway shall not talk about that, since the result has been widely reported on all major business daily. Apart from the bonus payout, all the employees were given a surprise treat by the management team.
Guess what's the surprise .............
.
.
.

Yes, custom made CupCakes, for each and every employees.
I believe this is the only company in Malaysia that does random stuff like this for its employees and it never fail to put a smile on everyone's face.

I got a smily face cupcake


Say Cheesss
That's not all, employees were also given a box of surprise.

Guess what's in this box made of recycle material
Let's take a peek to see what's inside...

A greeting card from DiGi Management Team
This is a excerpt of the message:
And a new one has just begun,
Time to shake off the dust,
Let's hit the ground in a run,
It's nice to have you near,
But before you start to unpack,
A little something for you here...

(ClockWise)DiGi Pen, 4GB Pen Drive, Notepad, and a Solar Charger.

Enviromental Friendly Design PenDrive.

Isn't this cool?
I know 4GB
isn't
that big, as I'm using a 32GB now, but its free and the cool design really made up for it.

Solar Charger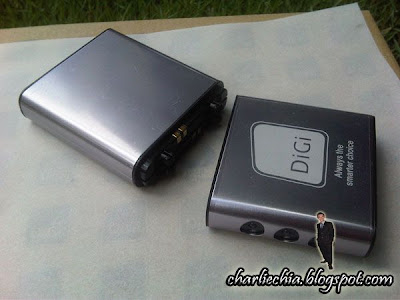 This feels like LEGO, detaching it part by part.


The solar panel when its attached.

The Solar Charger comes in 2 detachable solar panel.

The 2 solar panel and the lithium battery(The one with DiGi Logo on it)

Once the solar panels are attached, it will start charging the lithium battery.

The set also comes with cables and adaptors
To charge any of your electronic gadget when it run flay, the cables and adaptor are use to connect the
lithium
battery to mobile phones, mp3 player, I
pod
and other
compatible
electronic product.

This charger certainly comes in handy when I travel.
Shall write another post on how the solar charger works.