With less than a month before my maiden trip to Mount Kinabalu, I started my training yesterday by spending 1/2 a day hiking @ Apek Hill(aka Bukit Saga, Cheras. It was a challenging one, especially for people like me who doesn't work out. Ended up with muscle ache on both my legs, anyway that's another story to be shared.
This morning I was suppose to participate in the MPSJ(Majlis Perbandaran Subang Jaya) - NST (New Straits Times) Carnival & 10KM run, but my aching body was rather reluctant to get out of bed. After having a short mental struggle with my body, I decided to get up and go for the run to avoid breaking the promise I've made. My friend took the effort to register and collected the race kit for me, thus it wouldn't be nice if I end up on bed.
So I got myself wash up and drove all the way to MPSJ HQ at Subang Jaya. Arrived at about 6.45am, parking was a breeze as it was still early. I thought I was late because the race was suppose to start however to my surprise, I was told that they are still waiting for the VVIP to flag off the race. How on earth can VVIP be fashionable late when there were a motorcade which consist of 4 super bike escorting the VVIP convoy?

The Starting Line....
The race was officially flagged off almost 8am. Since my body was still aching, didn't really manage to run fast, and my body seems to get dehydrated much faster probably because I'm over exhausted from yesterday's hiking. This is where I'm most disappointed with the organiser(MPSJ and NST), for not providing sufficient water supply at each of the check points, making it extremely tough for most runners, including those experience one.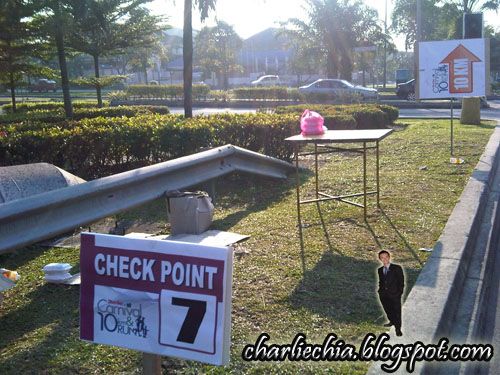 The 7th check point, without any water supplies or volunteer workers around.
To the organiser, MPSJ and NST in particular, please look into this seriously because its health hazard and someone could have died due to dehydration.Prevention is better than cure. Glad I'm manage to finish the race despite running with an aching body couple with the lack of water supplies.