The Nike City 10K Kuala Lumpur made its debut for the first time in Malaysia on the auspicious day 10 of October 2010 (10.10.10), a date which only occur once in every millennium. It was the first time Nike ever organise a race of such scale in the heart of Kuala Lumpur which has almost 9,000 participating. The run is divided into 2 main category, 5KM and 10KM route.
Didn't want to miss out being part of the Nike history, I signed up for the 10KM challenge for a mere RM50 registration fees and got myself a limited edition bright neon green Nike Dry Fit top. Since there are almost 9,000 participants, I'm pretty sure there is gonna be lots of blogs covering the even, thus I will do it the KISS way. KISS = Keep it Short, Stupid aka Keep it Short & Simple.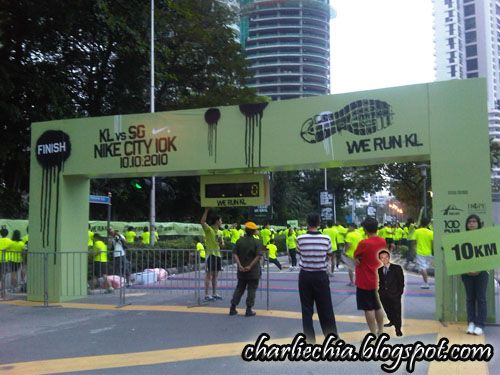 The race was flagged off at 7.30am at Jalan Binjal, Kuala Lumpur (beside KLCC).

Nike successfully light up the heart of Kuala Lumpur with its Bright Neon Green top
Being in the running business Nike really knows how to treat the runner well. Nike strategically placed 4 Deejay Station(with blaring out loud music) along the 10KM route just to keep the runners entertained and motivated as they battle it out making it one of the best organised runs in Kuala Lumpur.

This is one of the 4 Deejay Station

Runner getting exhausted after some 6KM run.
Unlike some of the race around KL, Nike City 10K were well planned with 4 water station strategically setup along the 10KM route. Not to mentioned, they have more than enough water supply to keep everyone hydrated.

Participants rushing to quench their thirst
I finished the 10KM challenge in 1 hour 12 minutes. Quite an accomplishment I must say as I usually take 10 minutes more.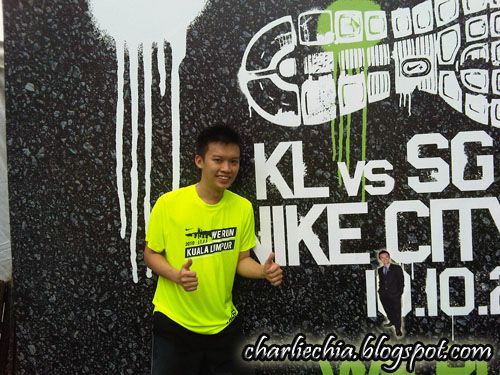 Me with the Nike City 10K wall.
Everyone who managed to finish the race within time limit were given a Character Doll as a finisher gift. The Character Doll come in 2 version, one male (JAY) and one female(ARI).

I got ARI, the female version.
News has it that this will be the first and last time Nike organise such a race in KL. If any of the Nike Malaysia managements are reading this, here a message for you all. Please make this an annual event to promoted a healthy lifestyle and encourage more Malaysian to take up running. With almost 9,000 participants in the Nike City 10K 2010, there shouldn't be any doubt not to organise it again. Besides I'm pretty sure Nike will reap the marketing reward along the way.