Sometimes being in the telco does have its advantages. I was recently invited by Research In Motion (RIM) to attend the launching of BlackBerry Torch 9800 on the 01 of October 2010, held at Westin Kuala Lumpur. It was a night full of glitz and glamour, at least for people from RIM as they put on a wonderful showcase.

Registration Counter
As per standard protocol, the event started with a speech by the CEO of RIM Asia before the opening show. It was an eye opener to me when Erika Chen Huan mesmerised me with her Sand Art performance.

Opening Show by Erika Chen
The show was so smooth that it looks like a cartoon animation. If you have no idea what I'm talking about, perhaps you may want to check out this video.

The entire event was rather exclusive with less than 300 invited guess, mostly from the telco's, some celebrities, medias and bloggers. It was held at the Grand Ballroom of Westin with a little twist. The ballroom was setup in such a way that when guest walked into the room, they were greeted by 3 large white wall(left, right and centre) and there were about 8 high performance projector projecting into the white walls turning it into a large digital screen. Accompany by carefully selected music in the background, the event really create an impact to those who attended the event.

BlackBerry Torch Video Presentation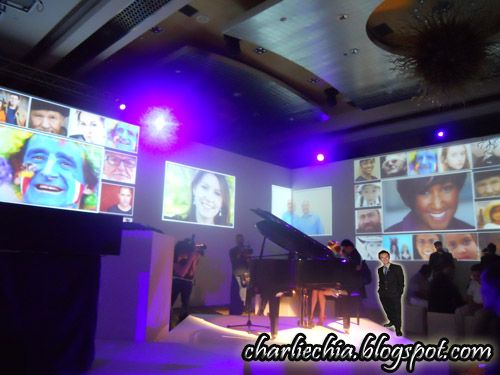 More visual presentation as the pianist plays her masterpiece
We were served with a wide selection of food while seated (some were standing) and enjoying the performance arranged for the night. Very well organised I must say, as they have the food coming to us ratter than walking and queuing at the buffet line.

Everyone was given a break first after the performance and that's when I took the opportunity to collect my door gift with a little card that was given to me when I registered myself earlier.

This is the little card which I mentioned

Waiting patiently in line

This will be my first Tiffany & Co collection. Thanks to RIM.
While enjoying the break, I also took the opportunity to have a closer look at the swanky new BlackBerry Torch 9800 on display.

Ladies & Gentleman, this is the brand new BlackBerry Torch 9800
Soon everyone was usher back into the ballroom where RIM had this mini "Who wants to be a millionaire?" game which will see the winner walk away with a brand new Torch 9800.

The stage of "Who wants to be a millionaire?" with the background being projected
Since there was so many people around, Bernie Chan(a television host, actress and supermodel) the host actually picked cards from the fish bowl to select the lucky guest who will play the game. Guess what, I was one of the lucky guy selected. I was even more lucky when my opponent was Jason Lo, the CEO of TuneTalk. I was really pressure cause its like a battle between DiGi and TuneTalk(or Celcom since they own a stake in TuneTalk).

Bernie, Jason and Me
The rules is pretty simple the first person to raise their hands when the questions was read will get to answer. If the person answer wrongly, the other person will automatically qualify to the next round. Since Bernie couldn't decide who actually raise our hands first when the question was thrown to us, we were ask to play the traditional "Scissors Paper Stone" game.

Unfortunately I had to let the BlackBerry 9800 slip away at the final round when I was thrown with a question related to European History.

Though I lost, I still walk away with a BlackBerry goody bag(will talk about it below)

Bernie Chan, the host of the night.

Erica Chen Huan & Me


Me, Nicky Cheong(celebrity blogger) and his lovely cousin Elaine Daly

Daphne Iking and her lovely 2 years old daughter Isobel.

Me and my colleague from DiGi


Deejay Gold Fish, KL most sought after Deejay.
Now let me show you whats in the Tiffany & Co bag as well as the BlackBerry Goody bag which I won for losing the "Who wants to be a millionaire? game.

In the BlackBerry Goody bag:

A USB hub, Memory Card reader and a portable speakers.

RIM USB Hub.


Memory Card Reader
and this is what's in the Tiffany & Co bag:

A Tiffany & Co box tied with a lovely ribbon.

My first Tiffany accessories, Tiffany & Co money clip
For more related post, read the following blogs by:
Daphne
Jenkinyat
Leonard Chua
XiangCool
Also read up about previous BlackBerry Bold 9700 Launch here