Just last evening, I was dining with my colleagues @ Twenty One, Table + Terrace @ Bangsar Shopping Centre. This outlet is similar to Twenty One, Kitchen + Bar @ Changkat Bukit Bintang but offer a slightly tweak menu for a change.

The Entrance - Sleek & Clean design.
Located on the 3rd floor of BSC, it has been around for sometime and seems to be quite happening as I've observed. The restaurant is located at the corner lot thus enabling its customer to enjoy the panoramic view of the KL Skyline while indulging in its mouth watering menu. The KL Tower & Maybank HQ can be clearly seen from here too.

This is the table that where we sat.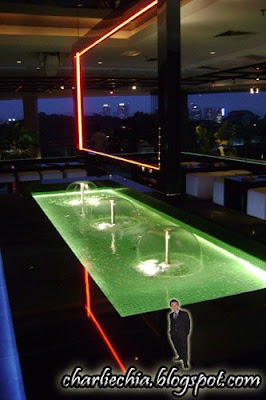 The fountain near the bar area.
It may seem quiet now, but later during the night, you will see lots of girl sitting around this magical fountain.

Even the match box has a sleek design..

Getting ready to fill our growling stomach.

The food menu is design consistently with the theme
Since there were almost 20 of us, we ordered a variety of drinks which include cocktails, Hoegaarden, and wine.

Forgot what its called, but my colleague called it the chap choy drink mainly because of how the content is mixed.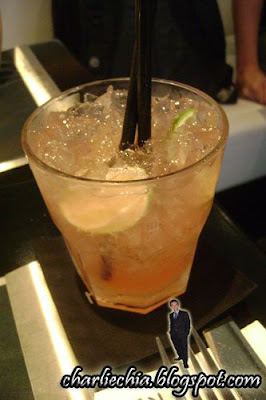 I'd Twenty One Degrees (x-rated, lime, brown sugar)
The funny part when we were ordering this is that I'd one colleague who never go out for drink, or must I say a complete nob when it comes to ordering at place like these. He asked me to do him a favour by ordering him a drink, so I asked the waitress to come over and said: Can you please give this gentlemen sex on the beach? My colleague immediately gave me a shocking stare which I later explain that its the name of the drink. Thinking back on his facial expression now just kept me laughing.

The Starter (tiny cubes of bread, served with olive oil and crushed nuts)
I think they revamp the menu slightly because the menu I saw was different from what they published on the website and certainly different from some of the blog reviews which I've read. Anyway, since we want to have a variety of choice, we decided to order each item on the menu and share it except for item which contains beef(most of my colleague don't take beef) and the salads.


Black Cod with Foam @ RM58
Well, not sure what is the foam doing on the cod fish, maybe the chef has ran out of ideas on how to present the food. Anyway this dish is the second most expensive on the menu but it doesn't taste like its the second best dish on the menu. In fact i think the its over-rated. I've had cod fish that are way better.

Seared Chicken with 65 Degree Egg @RM24
This is in fact another disappointment, @ RM24 for this dish, its a total waste of money. The chicken is too dry and hard. The taste was a bit monotone too..

Fettuccine Aglio Olio @ RM38
For the Fettuccine, the only think that is nice is the 3 pieces of white prawn served with it.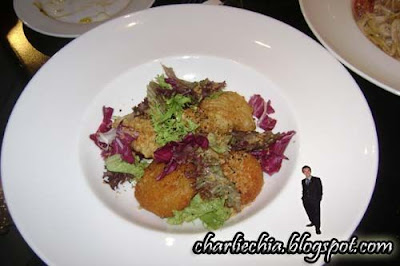 Potato Foam with Crisped Potato @RM14
Nothing special, just a few deep fried potatoes that seem to be over cook till all the juice dry up. I would definitely not pay RM14 for this.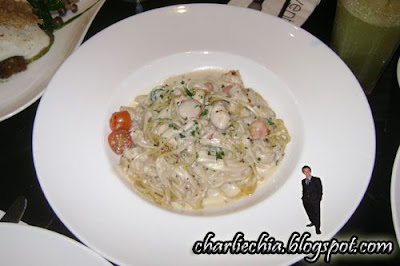 Spaghetti in white wine Parmesan Nage @ RM26
The Spaghetti is actually quite good, its not over cooked and the white sauce was nicely prepared . At the price of RM26 per serving, its actually quite affordable for a place like Twenty One.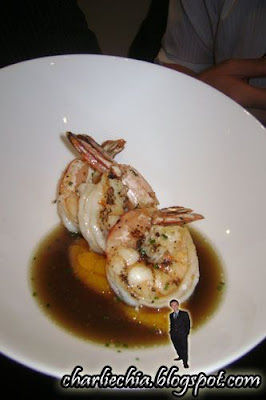 Charred White Prawn with Pumpkin puree & hot & sour prawn broth @ RM30
All in all, I personally feel that this is the best dish among the many dishes that we have ordered for the evening. After having sampled the main course, its time for some dessert and here's what we had..

White Chocolate with Creme Cheese Mousse @ RM22
Taste wise, its so so only and I would say that this dessert is a little overpriced.



Baked Dark Chocolate Ganache @ RM22
It may not look that good, but it surely taste better than it looks. Dont judge a book by its cover!!! This may not be the best, but definitely a must try for chocolate lovers.
Well, well, after having take so many pictures of the place and food, its time for some portrait shots to record the memories.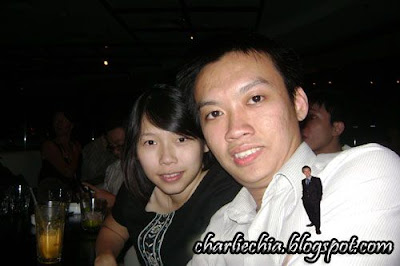 My colleague, Allie & I

(Clockwise from top left) Me, Heng, Kelvin, and Lai
For those who would like to try check out the place, here's the address.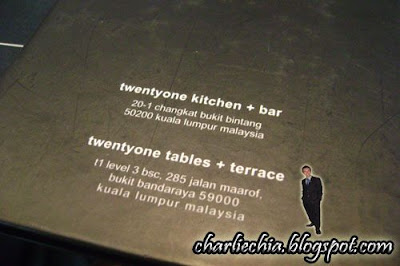 Overall, Twenty One is definitely not a place to dine. However if you are looking for a nice place to drink and chill out, then this is the place you should be. Please take note that this place gets really crowded with young professional and expatriates as the night goes by. Wouldn't mine trying out the food @ this place again in the next 12 months, provided that they change a new chef or the chef improve his/her cooking skill significantly.


Meet my new friend SokYen