Luxurious Canopy were setup at the compound of Tan Sri's Private Residence
Today is the first day of Shawal, a day where muslim around the world celebrate Hari Raya. It's usually celebrated after 1 month of fasting during Ramadan. The date in which Hari Raya is celebrated varies from year to year because the muslim follow the lunar calendar as oppose to the solar calender. Ramadan is the 9th month of the muslim calendar. Hari Raya Puasa is also commonly known as Hari Raya Aidilfitri. In Malay the word Hari Raya means 'A Great Day' and Puasa derives from Sanskrit meaning 'fasting or abstention'. So, Hari Raya Puasa literally means 'great day of fasting' or in actual terms 'the festival marking the end of a period of fasting'(
GeoVision
).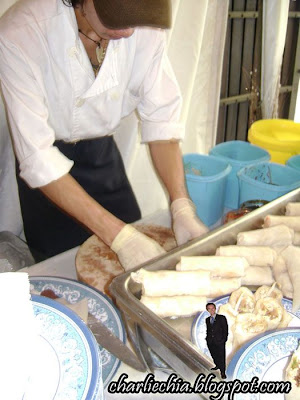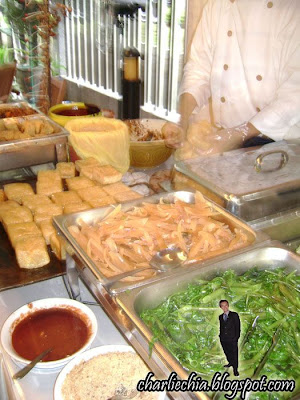 Being a Malaysian and having lived in this beautiful county for the over 20 year, it's the greatest place for me to call home basically because it is a multiracial country that have been able to live together peacefully for 50 years.
So What I did this Raya?
Well got an invite, an invitation to Petronas CEO's open house. Arrived at his private residence at about 4.30pm, the host, Tan Sri Dato Sri Mohd Hassan Marican and Puan Sri Datin Sri Noraini Mohd Yusoff were seen cheerfully greeting throngs of visitors and VIP that were invited to their rumah terbuka(Open House). The rain had just stop, which was rather in time, as the car that I was travelling on just arrived and manage to park somewhere around the corner. While taking a 5 minutes breeze walk to the main entrance, I notice a truck with the name GroupBased was parked right beside Tan Sri house. At that moment, I knew that the food is gonna be fabulous. Why So? Because GroupBased is one of the best caterer in town, known for its good food and not to mention price $$$. GroupBased are known to the ultimate choice for most Conglomorate, Tan Sri's , Datuk's, politicians and tycoons when it comes to catering for parties and open house.
So arrived at the main enterance, extend my hand politely and greated both Tan Sri and Puan Sri "Selamat Hari Raya". Which they politely greated me in return. Then we proceed to roam around the stores. There were many stores setup at Tan Sri's private residence compound, with each store offering different range of food. Among the local delicacies available at those stores were poh piah, tau foo bakar, rojak, thosai, nasi kandar, roasted lamb, tempura, char kuih teow, nasi kandar. Tried most of the available food there, but my stomach isnt big enough, so by 6pm, decided to call it a day and proceed to the enterance to thank Tan Sri for the foooodsss!!!. Managed to take a photo with Tan Sri before leaving. Unfortunaly Puan Sri was too busy entertaining the hundreds if not thousands of visitors they had.