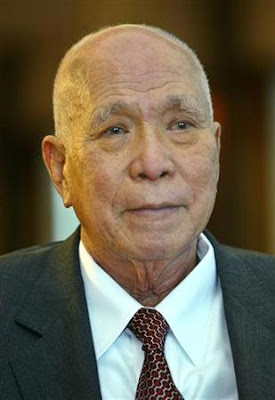 Tan Sri Dato' Seri (Dr) Lim Goh Tong, the founder of Genting Highlands Resort and Genting Group pass away peacefully on the 23th of October 2007 at 11.20am local time at Subang Jaya Medical Center. He is survived by wife Puan Sri Lee Kim Hua, and their six children, namely Lim Siew Lay, Lim Siew Lian, Lim Siew Kim, Dato' Lim Tee Keong, Tan Sri Dato Lim Kok Thay and Datuk Lim Chee Wah.
I received the news shortly at 12pm, just right after a meeting at Digi's HQ, Shah Alam. The moment I received the news, I felt a sudden sorrowness flowing within me and my heart felt a little pain. Well he doesn't has any blood relation with me, but Tan Sri Lim Goh Tong has always been my source of inspiration, my idol and a good boss to me. His ability to foresee and build Genting Highlands single handedly is something worth admiring. The strange thing about Tan Sri is that he doesn't speak english or bahasa, nor does he has a bachelor in engineering or business but yet he is able to turn the virgin forest of Genting Highlands into an empire that is worth USD22 billion as of 22nd August 2007.
Having the opportunity to work with Genting Group's HR department 2 years back was really an honour to me. The working experience at Genting was an intense one, with dynamic and creative people from all walks of life working at the City of Entertainment. The good old days back at Genting has certainly allow me to understand the nature of Genting businesses and the founder of Genting Group much better. He may have left this world, but his legacy will stay on for years to come.

Tan Sri is a legend, a legend that has lived his life to the fullest, as Datuk Tan Chin Nam says, "At the age of 90, he had these four things before he passed away – health and longevity, the success of his children, companionship of his spouse and old friends. There is nothing else that one can hope for."

Before I sign off this tribute to the late Tan Sri, let me leave you(my readers) with a malay proverb: Gajah mati tinggalkan gading, harimau mati tinggalkan belang; manusia mati tinggalkan nama.

Lets observed 1 minute of silence as a mark of respect to our beloved Tan Sri Dato' Seri (Dr) Lim Goh Tong, a.k.a Uncle Lim. You will always be the pride of Malaysia and the Chinese Community.