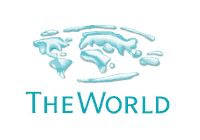 How many times have you ever think and say to yourself I could run this country better if i was given the chance? I would like to own and run Malaysia, Australia or maybe the UK? It may seems impossible and people around you may also think that you are insane, Hitler wannabe, and maybe day dreaming.

Modern Technology and Globalisation finally made it possible for you to own any country of your choice, provided you have enough legal tender notes to burn.

Ladies and Gentleman, without further ado, I would like to present to you "THE WORLD". Yes you heard it right, THE WORLD. So what is the world? The World is the latest property development conceptualise by H.H General Sheikh Mohammed Bin Rashid Al Maktoum, Crown of Dubai. So what is THE WORLD? Well its a development project which rebuild the world, but in a smaller scale, a total of 300 island will be build to resemble countries and continents, and the final product will resemble the world map.

Claimed to be the world's most innovative real estate development, every single country and island will be put on sale. So if you have the tough of buying Australia and turning the whole country into a resort with Asian theme, its entirely up to you as long as you have the financial baking to do so.

The World, comes with 4 pre-planned Island Typology, namely Low Density, High Density, Resort and Commercial. It also comes with hubs and transportation service such as water taxi. now how is that for a change, traffic jam at sea.. The World also comes with complete with a high tech water, power and sewage system.

With this new development, you can travel THE WORLD in less than a day. Now that's globalisation.
Welcome to the rich man's world. Wish I could afford to buy the cheapest Island though.
So would you buy a piece of property at THE WORLD if you had the money? and which country would you like to buy ?
To find out more kindly click Google Result or YouTube