1st day of Chinese New Year has always been busy as usual, as my family will be busy visiting orphanages as well as relatives. As the cost of sending an sms gets cheaper, some operator even gives free sms during this festive season, people tend to send a lot of forwarded sms greeting to greet their love ones, family, relatives, and friends. It's so cheap and easy that sending a card or even e-card has become history for most people. Yesterday while on the way to the orphanage to share with them the joy of celebrating Chinese New Year, I received a surprise sms, a sms from a number is look pretty familiar but yet I couldn't recall who it was. Here's a snap shot of the sms. **Take note that I have erased the last 3 digit of the sender's mobile number due to privacy issue.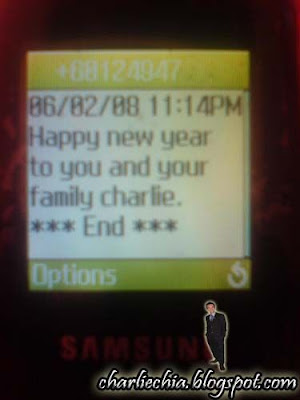 I thought the sms was from a secret admirer of mine, maybe a stalker or someone playing a prank on me. I was really curious with the message as it was address to my and my family and the sender even knows my name. So I politely reply by saying thanks for the greeting and ask who the sender was? I received a reply shortly from the same number, with two words only. Guess what, it was Timothy Tiah, the founder of Nuffnang. Dam I was really surprised. I wonder if he did sms every nuffnanger....
Anyway, thank Timothy for the short sms which really caught m by surprise. It was really sweet of you.