Short Talk: This is an advertorial for Chiino Pieces, a newly launched Online Fashion Concept Store. There are 20 vouchers to be given out courtesy of Chiino Pieces, so be sure you read carefully and find out how you could get one.
---------------------------------------------------------------


In today's fast moving world, time is money. Imagine braving through the terrible traffic on Kuala Lumpur, getting a car park at the mall, the rising cost of fuel and countless of toll booth just to get a decent clothes for a party, anniversary, or functions. Life need not be that difficult, because a new local online store has just been launch recently. It's a modern and chic online ladies fashion store which sell simple, elegant yet affordable ladies fashion wear.
Conceptualized by
Ms Jane Chia,
who finds it difficult to shop as she is busy with her family and work schedule. Thus she decided to launch
Chiino Pieces
, an online fashion store which sells fashions from Japan, Korea and Hong Kong at an affordable price because they eliminate the physical store rental.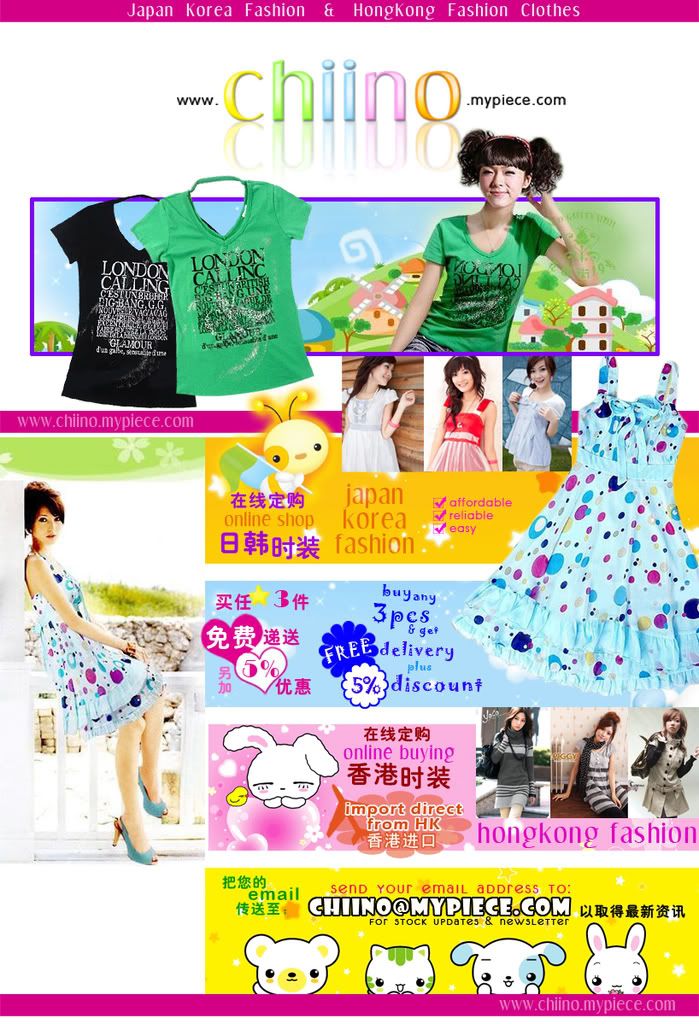 If you are wondering how affordable it is? Here's a peek, prices of Chiino Pieces product ranges from RM20 to RM100 only. It's good place to shop because it brings you fashion design all the way from Japan, Korea and Hong Kong, and you can do all the shopping at the comfort of your own home with just a few clicks on the mouse.

It's an ideal place for girls to shop, whether it's for your own use or to be used as a gift. Guys who are too shy to get a gift for girls could also buy online to avoid the embarrassment.

As a reward to my loyal readers, Chiino Pieces has decided to give out 20 vouchers which will entitle you to discounts which will make those pretty looking dress, skirts and jacket more affordable.

So you maybe wondering what you need to do in order to get it right?
Well it's pretty simple and straight forward.

2.) Once you have done that, just email me at
charliechia8@yahoo.com
with the subject, Chiino Pieces free Voucher.
3.) Do provide details like your blog address, and of course your email.
4.) The first 20 email I received and meet the condition of having a write up on the owner's blog will be given an e-voucher.