Nuffnang Pajama Party is like a 3 in 1 instant coffee pack because it is one of the most extraordinary where you get to see, touch,
feel
and snap pictures with 3 top Professional Cum Celebrity Bloggers(PCCB). Without them, the event would not have been so happening(of cause Tim, Ming as well as the sponsors are important too).
If you miss out, or did not get an invite to this happening event of the year, don't worry, cause I am gonna share those photos with you.
So here is the first ingredient for that completes the event, Mr Kenny Sia. He is the rightful owner of
KennySia.com
. He is a Malaysian Blogger, based in Sarawak and has a popularity which drives an average of 20,000 unique hits a day to his blog.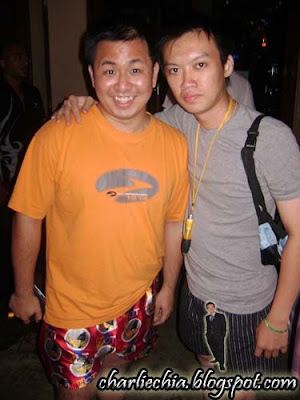 Kenny Sia & I
Second ingredient is the infamous Ms Wendy Cheng a.k.a Xia Xue. I'm surprise to find out that she is only 140cm plus plus tall. But hey, don't look down at her. Despite her controversial post on her blog who is said to be rude, and sometimes bimbo. I find her to be a very nice girl with a pleasant personality. She is a Singapore Blogger with a popularity gives her blog an average of 15,000 unique hits per day.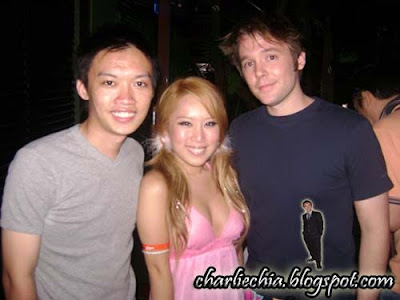 Me, Xia Xue and Mike(her sibeb cute boyfriend)
The last and most important ingredient is Ms Dawn Yang. Also known with the nickname Clap Bang Kiss, She is a Singapore Artiste, model, host, and professional blogger. She is one of the hottest blogger gracing the Nuffnang Pajama Party.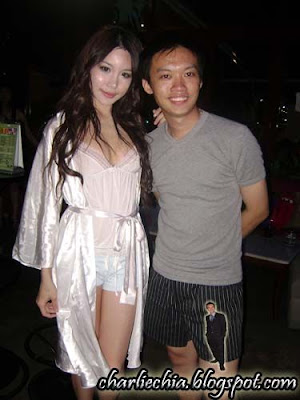 Dawn Yang (in her sexy lingerie) & I