I'm not sure if any of you out there experience the same problem, but for me, Nuffnang's Team live in a differnt time zone, 2 days behind Malaysian Time. Take a look at the screen shot I took and you will get what I mean.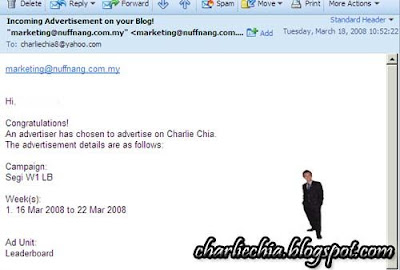 I received an email this morning(18th March) at 10.52am(refer the the top right of the photo). In the email, it says that an advertiser has chosen to advertise on my blog and the campaign will run for 1 week from 16th to 22nd March. The email is 2 days behind time. I normaly received email like this one atleast 1 days before the campaign starts.

Well its not like getting the email earlier would make any different for me, but hey Nuffnang on of Asia's fastest growing Blog Advertising Community. Thus I expect Nuffnang to have an international standard. So Timothy and team, please look into and resolve this minor bug asap. Cheers
Ermm, Timothy and Team, get it fix asap.