Yesterday was one hell of a great day. Why ? Because i woke up at 6.30am to have a nice cold shower before leaving my house for Sunway Resort Hotel & Spa, for DIGI's Annual Sales Kick Off, an annual gathering for the whole DIGI Business Sales and Marketing Team nationwide. Its really a big gathering with lots of talented people and not to mention pretty girls from from the northern region and southern region.

Was there before 8.30am and breakfast was already prepared for us. And the event officially kick off at 9am where speeches by the bosses and invited guest was presented. Some flash back to 2007 was highlighted as well as what to expect for 2008, among other is the MNP ( Mobile Number Portability ). For your info, MNP is something that everyone will be looking forward to have sometime is June or July according to the local newspaper. When MNP comes into effect, you and I will be able to maintain our favourite mobile no, be it 012, 019 or 016 to any service provider which we like. For example, 012 user with be attached to Maxis under current scenario, however after MNP, the 012 user will be able to change to Celcom or DIGI or even U-Mobile (018 prefix) while maintaining the 012 number. In short you get to change your mobile service provider while keeping your mobile number. I cant really go into details telling all of you what I did in the meeting as the meeting covers lot of company strategies for the coming year(for fear that my competitor might be lurking around my blog).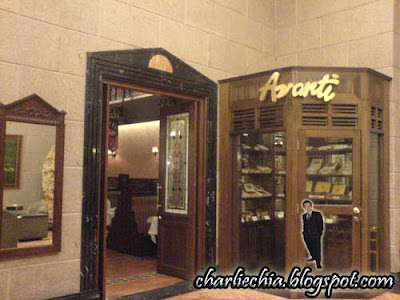 Avanti's Main Enterance
Anyway, the entire meeting which runs to about 6pm was rather relaxing as there were 2 tea break and one lunch break in between. At 6pm when the meeting was adjourned, we proceeded to Avanti, an Italian-American Ristorante located at the lobby of Sunway Hotel, where dinner was served and the party begins. Great food were served in buffet style, and as usual, even before the buffet line is ready, free flow of liquor is served to more than 200 people that attended the meeting earlier.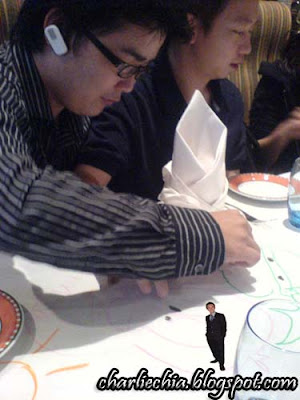 Now, how cool is that? Avanti actually provides every table with colourful crayon for guest to draw on the table while waiting for food to be ready. Alvin trying to show his hidden talent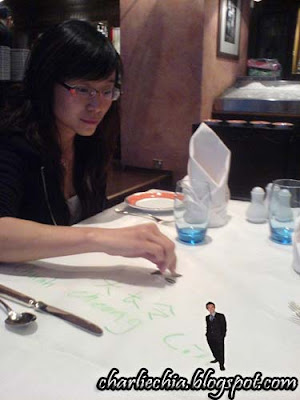 Jessie didnt want to let Alvin grap all the spotlight, so she tries to show off her talent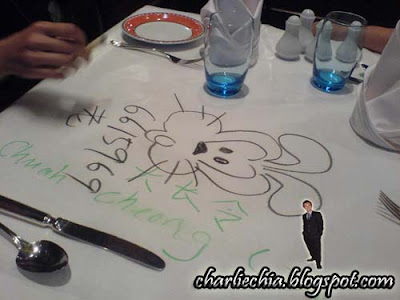 Jessie's art work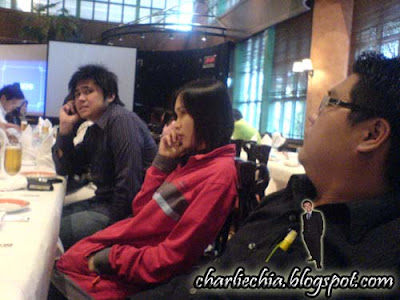 From left to right: Kevin, Vernessa and Hoong Yip (All 3 Trying to act cool)
The Senior Management Performing a song entitle "Stand By ME"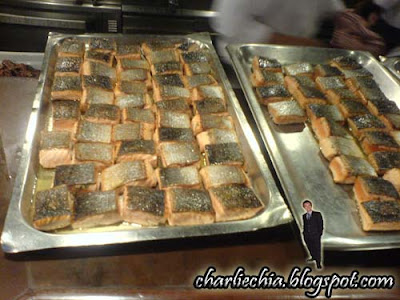 My Favourite: Fresh Salmon, before its being cooked


People will playing games, mingling around while enjoying the free flow of liquor. I decided to make a move at around 10pm. Overall the night at Avanti was a wild and enjoyable night.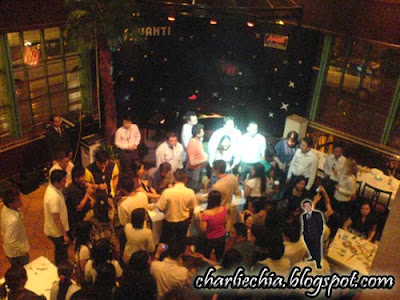 The Crowd playing games after filling up their tummy
Avanti is a nice cosy restaurant with very dim lighting, a good place for candle light dinner I would say. I strongly recommend the place to people who wanna their anniversary, or any special occassion with their love one.