Last night was a hell of a party, after leaving Avanti, I subsequently join Daryl, Victor, Nicholas, Suet May, Michelle, Jasper, James, Geralynn, Ka Wei, Ariff and an intern at Laundry (The Curve). We had a great night chilling out till about 12am when some of them decided to go for a karaoke session at Red Box. I opt to stay behind chilling with Ka Wai, Victor Suet May and Michelle. The night ended at about 1am and I go home at about 1.45 after dropping off my passenger which I had taken on a terror ride (lol just kidding, it was a smooth and safe journey).

I quickly get my laptop upon reaching home and start surfing to check on my Nuffnang Account. and guess what I found. Just earlier in the yesterday I was upgraded to Exclusive Membership Status and now the word has change to GLITTERATI(in gold colour) status.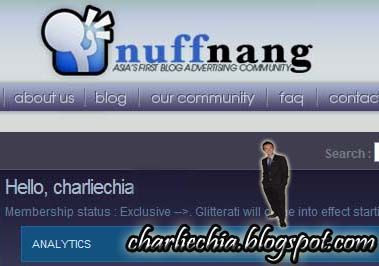 My membership status was EXCLUSIVE when i check at 10.45am on 9th January 2008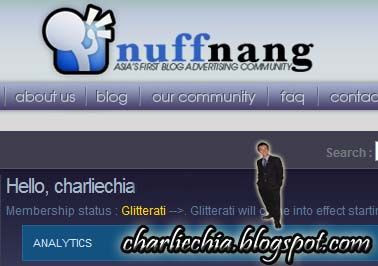 The word exclusive turn into Glitterati(gold colour) when I check again after I came back from the party


** I guess I caught the attention from the majority of you who was curious with the picture I posted on
Exclusive membership status granted
and many had click and gave their comment as well as constructive feedback. To tell you guys the truth, the earning you see there isn't true. Actually if you are a loyal regular nuffnanger, you would have notice 2 flaws in the picture.


One is where the word HELLO, usually you will see your email address after the word HELLO. But for safety purpose, I have erase my email address, leaving behind my name only.


Two, the number of visitor is rather low, and thus is impossible to have achieve RM35,678 in less than 4 months after joining Nuffnang, bearing in mind that Nuffnang is less than a year old.


I was just trying out my Photoshop Skill and create some curiosity and get some constructive feedback. If you do have any comment, whether is good or bad, kindly leave you name and contact (email and blog url if you have one). If you wanna condemn, at least condemn bravely and don't be a coward..


Kate, you are the first one to question me both on KennySia's Cbox as well as on Msn Messenger. Shall add on 1 cup of Teh O Ice Limau on top of the movie tickets.