If you've read the today's paper, namely The Star newspaper, you would have notice the title "The best kept e-secret at JPJ" on the 3rd page. Well the article wrote about an e-service by JPJ a.ka Jabatan Pengangkutan Jalan which enable Malaysian drivers to renew their licences online.

Huh, since when the Malaysian Transport Department became so advance? Well, despite having spend several million of tax payers ringgit into an advance online system to make licences renewal hassle free to the rakyat(citizen), little effort (or should I say no effort) has been taken to promote this advance service to the rakyat. That's the reason why the Malaysian Transport Department's front desk counter and the Pos Office is always crowded with people queuing to renew their licence so that they could save on the duit kopi(bribes given to police officers who are always seen roaming around Malaysia's road to catch traffic offender).
Anyway, let's get back to the main subject. After having read the news on the paper, I decided to check out the
JPJ Portal
. In case your driving licence is
near expiry
, I strongly advice you to try out this service to save you your precious time and hassle getting through the wild Malaysian Traffic Jam. If you want to renew your licence, you can do so by
clicking here
, which will take you directly to the licence renewal site.(Honestly, I don't get any commission for writing about this).
The website design is pretty clean with just a few column to be filled up. First of all, you need ID No(National Identification Card No), follow by selecting your category(whether you are a Citizen, non-citizen, Permanent Resident, Police Force or the Arm Forces). You will also need to provide your current licence's expiry date, Renewal Period(ranging from 1, 2, 3, or 5 years), follow by your contact such as Mobile No as well as email address. Then you will need to select your collection method, either its via Delivery (you will have to provide mailing address and pay for the delivery charges), Collecting at e-service center(you will have to select from the collection center from the drop down menu) or you may also choose the option Do not Require Renewal Slip (which require you to go to the JPJ State Branch Office to upload your licence data into your MyCard).
Now comes to the most important part, PAYMENT. The portal give you 3 alternative to make your payment for the renewal. You can choose to pay via Credit Card, MyEG Prepaid or FPX(Direct Debit). Don't ask me what the last 2 option is or how it works, cause no explanation were provided on the portal.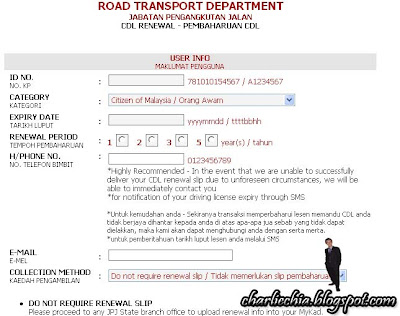 I will definitely try it out went my Driver's Licence expire end of this year. If you have tried it, kindly share your experience with me and my readers. Thanks.
**Please take note that this is not an advertorial and I shall not be liable for any losses which you may incur while trying out the service mentioned above. Try it at your own risk. lol