If you were using Innit yesterday, you would have notice entitle "Over-reacted fella in the nuffnang innit" posted by a guy who goes by the nick SC Bone. Though no name were mentioned in his entry, because apparently the author forgot the URL of my blog and hence my name as well. To be honest, that person mentioned in that post written by that particular author is none other than Charlie Chia. Yes you read it right, its me.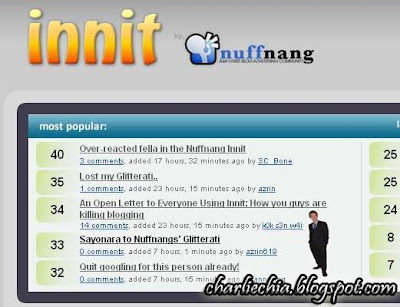 Now the reason I was so furious with nuffnang innit the day earlier was because my post on innit was repeatedly removed for at least 9times from innit system and nuffnang staff did not even attempt to tell me politely or even warn me before removing the post. My first post was at 1pm on the 12th of Jan 2008. When I logon Innit again in the evening, I discover that my first post on innit was removed, I subsequently re-post it again and it was repeatedly removed for 8 time continuously. At about 10pm my login id was suspend and I received an email shortly after from nuffnang's staff called Samantha. According to the email, I will be my innit account will be suspend for 7 days with immediate effect on the 12th Jan 2008.

A day after my suspension, I became a hot topic, SC Bone's entry about me made its way to the top in the most popular section with 40 nang in less than 24 hours. Thanks a lot for the promotion man.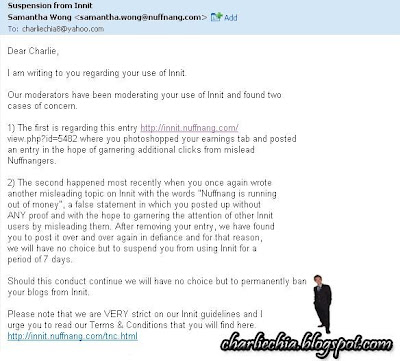 Snapshot of the suspension notice from Nuffnang (Part 1)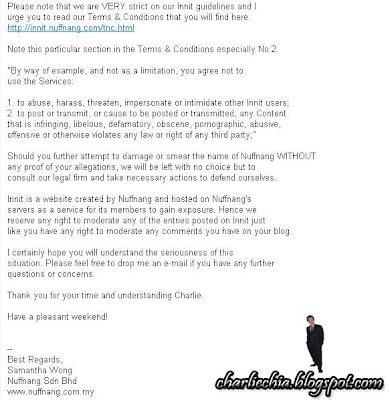 Snapshot of the suspension notice from Nuffnang (Part 2)