By now, I'm pretty sure many of you would have heard about HAPPY, or even seen the advertisement on the idiot box. Happy, the lastest prepaid package in town is a no frill prepaid plan aim at providing the user cheap local calls. You need not be worry about network coverage even though the Happy is a relatively new product in the market, cause its riding on DIGI's network. Yes, Happy is another product by DIGI, but runs on a low cost structure just like Airasia. So what's so special about this new prepaid plan you may ask.

Happy as I've said is a prepaid plan aimed at providing the user cheap local call rate, for as low as 1 cent per second, you make a simple short call for less than 5 second to say "Hi, I miss you!! Bye" and only be charged RM0.05 for that call. For the same call duration, conventional prepaid plan would cost you 18cent(both DIGI and Maxis). Thats 72.22% saving.

If you feel like talking, Happy charged you only RM0.99 to talk for 45 minutes(regardless of peak and off peak period). This is still cheaper than Hotlink's Extended Super Saver which charges RM3 for 60 minutes talk time(only valid from 12midnight till 9am). SMS will be charged 10 cent per SMS to any network.

The special thing about Happy is that you can reload any amount between RM5(minimum reload required) t0 RM200(maximum reload allowed). This simply means that you could reload RM19.78. And with any amount of reload between RM5 to RM200, you will get 60 days validity. Now thats really great, especially for people who uses a mobile mainly to receive call.

Because Happy runs of a no frill structure, every call to the Happy call center will be charged RM2 per call(its normally free for conventional prepaid). International Direct Dialing(IDD) is also very expensive, at RM5 per minute to any country. Current DIGI IDD call rate is as low as 18cent to countries such as US, Singapore and 28 other countries. I've attached a chart to give you a better understand of Happy's services and its rates.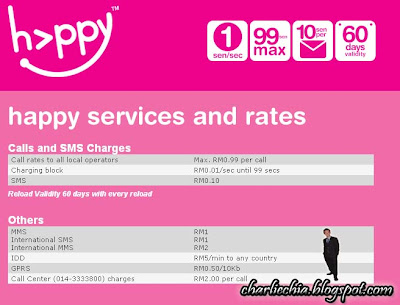 If you make alot of calls locally, whether to mobile line or landlines, then should seriously consider using Happy. However please bare in mind that its a no-frill prepaid plan, thus you have to pay a premium for its other services, like calling the call center, making IDD call, sending SMS and MMS internationally. Those who makes lots of local call to mobile and fix line, its time to change and let the savings make you HapPy.
To know more about the product, kindly visit http://www.happy.com.my
**Please take note that this is not an advertorial and I am not being paid for this article. Everything mentioned here is merely my opinion and I shall not be held liable for any financial loses which might incur after using Happy.